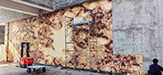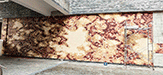 Landscape
2022
3,000 cm L.x 450 cm H.
23,000 ceramic tiles
Public Artwork
Landscape is a large ceramic tile mural cladding a thirty metre long by four metre fifty centimetre high exterior wall of a recently finished head office and factory building in the city of Dehua, Fujian Province in the south of China. The mural is realised using twenty three thousand individuallyl handmade and hued tiles which combine together to create both a practical exterior for this part of the building as well as a landscape image, the form of which appears somewhat undefined when observed from close by but when viewed from distance becomes clearly visible. The wall for which the mural was created was designed by the architect specifically to carry some form of adornment; adornment which I deemed should complement the building and its surroundings as well as enrich the lives and experience of the people working here. The wall in question forms part of an open courtyard and runs adjacent to an exterior walkway leading from the main entrance of the building to its central section. The wall acts then both to signify the importance of this location as well as an invitation to enter the building. The form of the tiles was designed specifically for this project, each having a unique three dimensional relief to further enhance the overall design.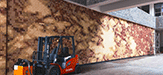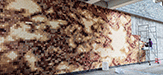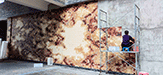 Landscape - process
Dehua
Fujian Province
P.R. China
April 2022
Press Release